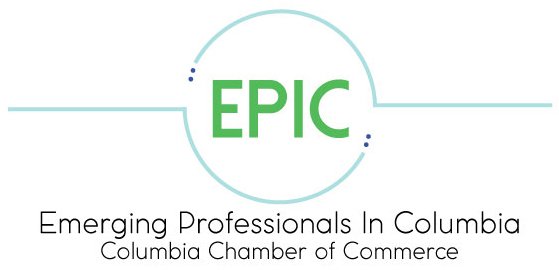 Emerging Professionals in Columbia (epic)
Career Success • Personal Growth • Professional Development • Social Involvement
EPIC is a division of the Columbia Chamber of Commerce, one that targets employees ages 22-40 who want to become more involved in the Chamber, meet new people and develop their leadership skills. EPIC's mission is to engage, develop and celebrate emerging leaders through professional growth opportunities and social interactions.
This mission is accomplished through four types of events: program events, professional development luncheons, community engagement breakfasts, and social mixers. EPIC also provides opportunities to serve on committees such as Membership & Marketing, Community Involvement and Education & Events to give back and grow your skills.
Become an EPIC Member Today.
How do dues work?
EPIC members are billed on an annual basis, with all billing for existing members taking place in March. New members can signup on a rolling basis throughout the year. All dues assessed after September are prorated at 50%. Because all Chamber member businesses support the activities of EPIC through their Chamber dues, employees of Chamber members receive a discount on their EPIC dues.
Can non-members still attend EPIC events?
While EPIC members will receive exclusive EPIC benefits, professional development lunches, community engagement breakfasts, and other program events will continue to be open to both members and non-members. EPIC members will still need to purchase a punch card or pay entry to EPIC events. Non-members will still be able to receive EPIC news and updates via email. To start receiving EPIC news, fill out the form below.
Types of Annual Membership:
Chamber Member EPIC Membership –

$40
Non-Chamber Member EPIC Membership – 

$60
What are the benefits of Membership?
Ability to participate in a structured mentorship program
Discount to all open EPIC events such as mixers and professional development programming
Exclusive networking experiences such as field trips
2 Members Only Experiences in the Fall and Spring
2 New Member Welcomes each year for new members to learn about EPIC
Ability to purchase EPIC Event Punch Card eligible to use for 6 events of $15 or less each

An EPIC punch card will allow entry into six EPIC events with a registration fee of $15 or less. Punch Cards are available for purchase by EPIC members only and expire one year after the payment date. Punch Cards are $60 each.
For more information about EPIC, please contact the Chamber at [email protected] or call (573) 874-1132.
If you're curious about EPIC but not ready to commit, this is the list for you. By joining this list, you are signing up for EPIC emails and event notifications. This form is NOT the member registration form. If you're interested in membership, please fill out the adjacent form, or contact Brett King, EPIC Liasion, at [email protected] or (573) 817-9111.
If you're ready to go all-in for EPIC, you're in the right place. Sign up today, and you could start taking advantage of your benefits tomorrow.